ArtsNOW is a Bright Spot in Education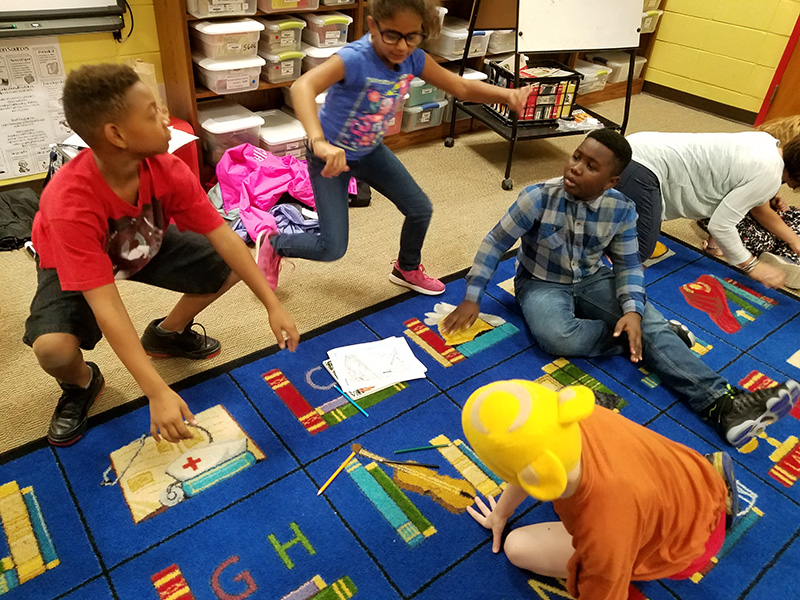 Rebecca Parshall, PhD, is the Director of Strategy at Learn4Life (L4L), where she leads collective impact efforts to improve early literacy in metro Atlanta. L4L identifies and scales proven strategies in key outcomes along the cradle to career continuum.
As metro Atlanta school districts finish two years of deeply disrupted instruction due to the pandemic, they are looking for creative ways to address learning loss, especially for our traditionally underserved students. In response to the great need for additional literacy support, L4L's Early Literacy Network and Leadership Council worked to identify another layer of Bright Spots to supplement the early grade literacy interventions already in place across metro Atlanta. Bright Spots are strategies or programs that are showing uncommon success in raising a key outcomes along the cradle to career continuum. One of L4L's newest Bright Spots is ArtsNOW.
To identify ArtsNOW as a Bright Spot, L4L's cross-sector network members engaged in a rigorous process to understand the research factors most affecting student literacy during the pandemic, and which of those factors the network could support. They arrived at three factors:
• Teacher preparation and effectiveness
• Children's mental health
• Early childhood education
Network members proposed 17 programs that addressed one or more of these factors, and narrowed these proposals down to several for the L4L Leadership Council to make final selections. That process resulted in selecting ArtsNOW as a new Learn4Life Bright Spot.
ArtNOW supports educator preparation and effectiveness, improves student literacy, and places a heavy emphasis on providing equitable access to arts-integrated instruction for Black, Latinx, and low-income students. ArtsNOW teaches educators how to integrate the arts into core content instruction, an approach that increases student engagement and academic outcomes.
Over the last year, L4L's Early Literacy Network has supported the growth of ArtsNOW across metro Atlanta giving more educators and students access to the benefits of arts integration educaiton. In particular, they studied the conditions that facilitate the successful adoption of ArtsNOW in schools, reviewed data to provide continuous improvement, and worked to raise awareness of ArtsNOW's effectiveness, especially in addressing some of the key challenges of learning during the pandemic.
A positive result of this process is a new, fully grant-funded cohort of metro Atlanta elementary schools in ArtsNOW's professional development beginning in the 2022-2023 school year. This cohort of 4 handpicked schools will engage in arts-integration this year.
The challenges schools are facing as they come out of the pandemic are many, but with the help of identified Learn4Life Bright Spots, like ArtsNOW, teachers will learn to integrate the arts into their lessons, enriching the classroom learning experience, and creating conditions to improve early grade literacy that will place students on a path toward future success.
To join the collective impact conversation happening in L4L's Early Literacy Network, sign up here. All voices are welcome, including parents, nonprofits, school districts, business, philanthropy, and more.